AHEAD Speed Kick (Switch Kick) bass drum system allows quick changes to a variety of custom bass drum beaters. And the Speed Kick Stick Bag holds 4 beaters and 6-10 pair of sticks conveniently attached to a floor tom.
I continually change sticks and mallets to get just the right drum sound. But I settled for only one beater when it came to my bass drum. That is unless I got out my drum key, crawled on the floor and changed the one in my bass drum pedal. Then I discovered the AHEAD Speed Kick quick release system.
The AHEAD Speed Kick system starts with a Stainless Steel Adapter Shaft that mounts in your bass drum pedal. Just like a conventional bass drum beater. Then you can select from over 10 different beater heads. The beaters securely twist into position on the shaft and can be adjusted to different heights. The adjustable height is ideal to maintain a consistent batter head contact position if you use your bass drum pedal on different diameter bass drums.
Beater Selection
I initially purchased the AHEAD Speed Kick Two-Way Beater Starter System. It includes a shaft and a felt/plastic two sided beater. Later, I added a High Density Felt, a Vintage Fleece and a Two-Way Foam/Wood beater. These four beaters provide me a wide variety of sounds for any music application. Additionally, I can quickly and easily change beaters between songs. Recently, I had a concert with a rock/funk tune, followed by a Broadway Musical ballad, followed by a Big Band swing tune. I went from a Two-Way plastic, to a Vintage Fleece, to a High Density Felt beater. Also, AHEAD offers a variety of specialty brush, leather slap and square beaters.
Accessible Stick Case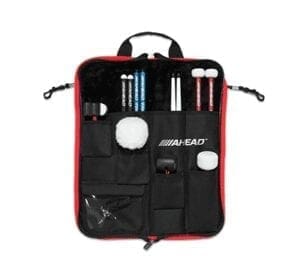 So now where to store and keep these beaters? AHEAD makes a Black/Red Plush Stick Case. It holds 4 AHEAD Speed Kick Beaters, 6 to 10 pairs of drumsticks and attaches to a floor tom. There are several compartments to hold small parts and accessories. 
By using the AHEAD Speed Kick (Switch Kick) quick release bass drum beater system, I can now select the bass drum beater that sounds the best for each bass drum, each ensemble and on each composition. If you play a variety of styles and gigs and care about your drum sound, then you should seriously consider the AHEAD Speed Kick system.
You may want to view this youtube video: Ahead Switch Kick Introduction and Demo
You may also want to see: Drum Set Stick Recommendations