Cha Cha Drum Style is the first in the series: Essential Latin Drum Set Beats. The challenge is to try and duplicate the patterns traditionally played by 3 drummers (bateristas): Timbales (timbalero), Congas (conguero) and Bongos (bongocero). Over the years, I collected a bunch of books that talked about playing various Latin styles on drum set. I would go from book to book searching for answers and ideas. Here are simple, stylistically accurate and essential Latin rhythms and patterns to play Cha Cha on drum set.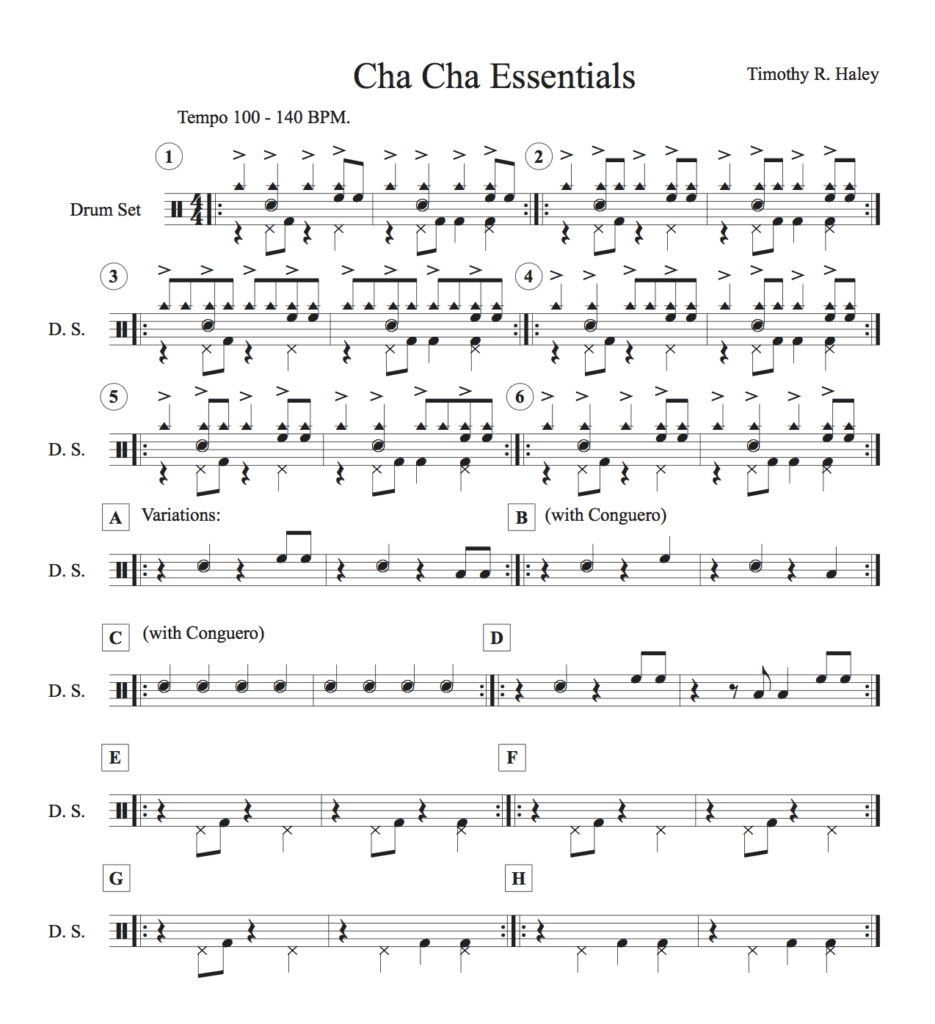 The Cha Cha has a characteristic repetitive quarter note pulse and does not have a defined clave. See: Afro Cuban Clave Essentials. Play the bell pattern on a small high-pitched cowbell. See: Basic Multipurpose Cowbells and Cowbell Recommendations for Drum Set. The style comes from the Afro Cuban Salsa genre and retains an accented Tumbao bass line. It remains a popular ballroom dance style. You should limit yourself to playing ONLY the (with Conguero) Cha Cha drum style patterns whenever playing with a Conga player (Conguero). Because many of these drum set patterns try to duplicate what a conga player would be playing.
Originated in Cuba
The Cha Cha dance gained popularity around the 1950's. The music strongly focuses on the first downbeat and is less syncopated than other Afro Cuban dances such as the Mambo. Cuban composer and violinist Enrique Jorrín composed the first cha cha, entitled "La engañadora," in 1951. In 1953, Orquesta América de Ninón Mondejar recorded it in Havana.
I often have heard the dance taught by saying: "One, Two, Cha Cha Cha". However, be advised: "One, Two, Three And Four" is NOT the correct rhythmic pattern. That was strongly pointed out to me, early in my career, by experienced dancers when I played for a ballroom dance club.
Other Essential Latin Drum Set Beats: 2. Bossa Nova 3. Mambo 4. Salsa Cascara 5. Salsa Campana 6. Samba 7. Songo 8. Bembe 9. Conga and Mozambique 10. Beguine, Bomba, Bolero, Guaguanco, Merengue and Rumba 11. Calypso, Soca, Reggae and Ska
You may also want to see: Three Basic Latin Beats to Cover Your Ass