Mambo Drum Style is the third in the series: Essential Latin Drum Set Beats. The challenge is to try and duplicate the patterns traditionally played by 3 drummers (bateristas): Timbales (timbalero), Congas (conguero) and Bongos (bongocero). Over the years, I have collected a bunch of books that talked about playing various Latin styles on drum set. I kept going from one book to another searching for answers and ideas. Here are simple, stylistically accurate and essential Latin rhythms and patterns to play Mambo on drum set.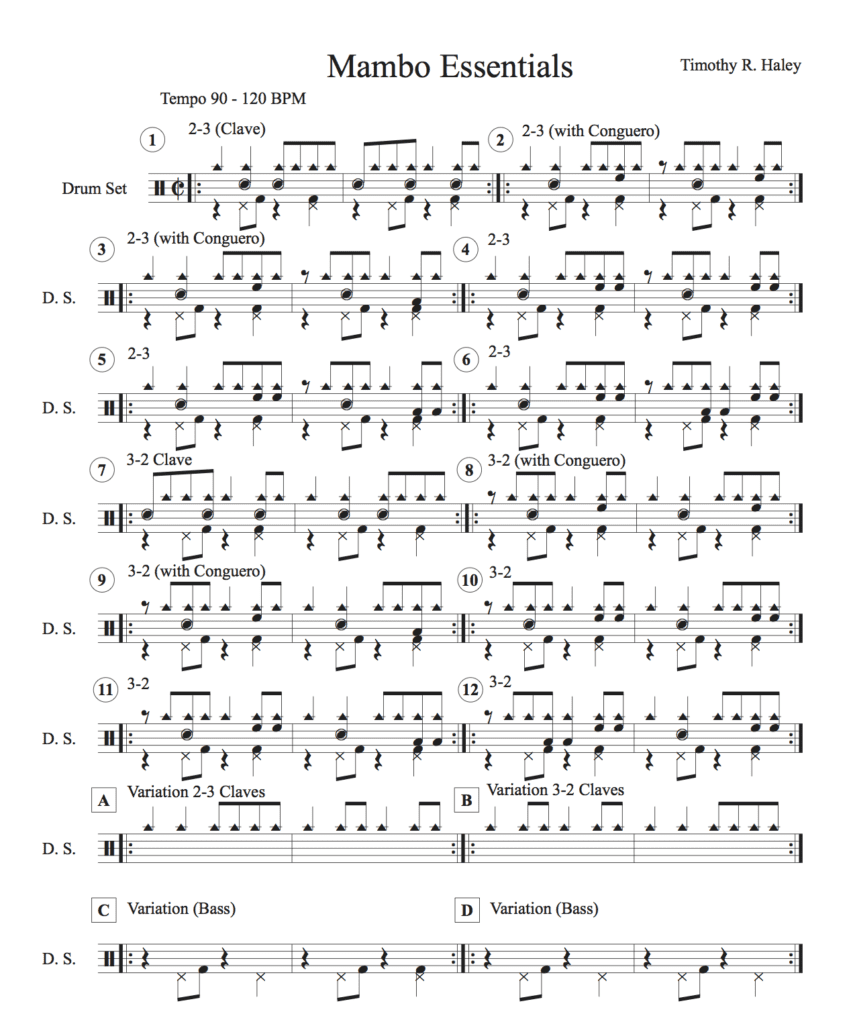 Mambo is a style variation in the broader Salsa genre. The cowbell patterns are usually played on the body of a Timbale Bell. See: Basic Multipurpose Cowbell Recommendations. Play these patterns along with other Salsa patterns such as Cascara and Campana. You should ONLY play the Clave or the (with Conguero) Mambo drum style patterns whenever playing with a Conga player.  That is because many of these drum set patterns try to duplicate what a conga player would be playing. Play Mambo patterns during the chorus or improvised Montuno sections of Salsa music.
Mambo is a genre of Cuban dance music
The charanga Arcaño y sus Maravillas pioneered it in the late 1930s. Later Pérez Prado popularized it in a big band style. Mambo originated as a syncopated form of the Danzón, with a final, improvised Montuno section typical of Son Cubano. Improvised Montuno sections are the essence of the genre when it is played by swing and jazz big bands. By the late 1940s and early 1950s, Mambo had become a "dance craze" in the United States and its associated dance music took over the East Coast thanks to Pérez Prado, Tito Puente, Tito Rodríguez and others.
Other Essential Latin Drum Set Beats: 1. Cha Cha 2. Bossa Nova 4. Salsa Cascara 5. Salsa Campana 6. Samba 7. Songo 8. Bembe 9. Conga and Mozambique 10. Beguine, Bomba, Bolero, Guaguanco, Merengue and Rumba 11. Calypso, Soca, Reggae and Ska
You may also want to see: Three Basic Latin Beats to Cover Your Ass