Salsa Campana Drum Style is the fifth in the series: Essential Latin Drum Set Beats. The challenge is to try and duplicate the patterns traditionally played by 3 drummers (bateristas): Timbales (timbalero), Congas (conguero) and Bongos (bongocero). Over the years, I have collected a bunch of books that talked about playing various Latin styles on drum set. I kept going from one book to another searching for answers and ideas. Here are simple, stylistically accurate and essential Latin rhythms and patterns to play Salsa Campana on drum set.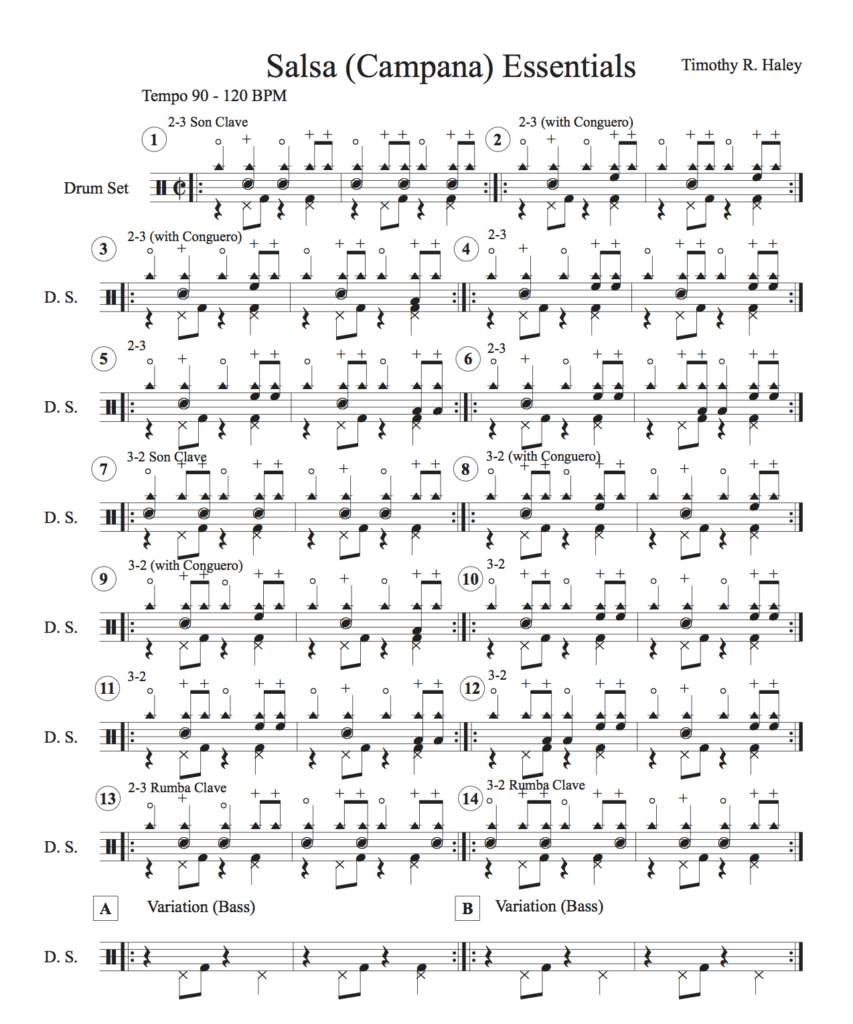 The Campana patterns are derived from the Afro Cuban Bongo Bell patterns used in Salsa styles. It is usually played on a Bongo Bell which has a wide, thick bell with a low pitch. See: Basic Multipurpose Cowbell Recommendations and Cowbell Recommendations for Drum Set. Play the pattern with a wooden stick on the mouth (Open) and in the middle of the bell (Closed).  This produces two different sounds. You should ONLY play the Clave or the (with Conguero) Salsa Campana drum style patterns whenever playing with a Conga player. That is because many of these drum set patterns try to duplicate what the conga player would be playing. Play Campana patterns during the Chorus or improvised Montuno sections.
Salsa Dance Music Originated from New York
Salsa music is a popular dance music genre that initially started in New York City during the 1960s. It is the product of various Cuban musical genres including the Afro Cuban Son Montuno, Guaracha, Cha Cha, Mambo, and Puerto Rican Bomba. Latin jazz (which also developed in New York) has had a significant influence on Salsa style and popularity. Salsa is primarily Cuban Son. A fusion of Spanish canción and guitar and Afro Cuban percussion. It also occasionally incorporates elements of Latin jazz and Bomba.  All of these non-Cuban elements are combined with the basic Cuban Son Montuno when performed within the context of salsa.
Other Essential Latin Drum Set Beats: 1. Cha Cha 2. Bossa Nova 3. Mambo 4. Salsa Cascara 6. Samba 7. Songo 8. Bembe 9. Conga and Mozambique 10. Beguine, Bomba, Bolero, Guaguanco, Merengue and Rumba 11. Calypso, Soca, Reggae and Ska
You may also want to see: Three Basic Latin Beats to Cover Your Ass