Many of my snare drums sound great with little to no effort. But others required a lot more effort and imagination. The focus of this article is not about the "basics" of tuning a snare drum. But rather, how to fix difficult snare drums? Considerations such as the type and thickness of drum heads, out of round metal shells, batter and snare side head tuning, snare wires and even rims. Whatever it takes.
I initially approached these difficult snare drums the same way I would any of my other snare drums. My "basic" snare drum set up. But they didn't sound good. So I would start over again – doing the same things I did the first time. No improvement. They still didn't sound right. But before I gave up and got rid of the drum, I decided to get creative and approach those drums differently. Here are some tips and trick I use fixing difficult snare drums so they sound great.
Drum Heads
Snare batter heads need to be responsive and control overtones. I generally select single-ply coated heads with some type of built-in overtone ring control. I don't like sticking anything on my heads such as Moongels etc. Frequently, I select medium 10 mil thickness heads such as Aquarian Focus X  or Evans Genera coated. But I have also successfully used thin 7 mil Evans Orchestral Staccato or Strata 700 Staccato and even 2-ply medium heavy 12.5 mil Evans HD Dry heads. It all depending on if I need more or less response and resonance. Rather than just use the same batter heads I normally use, I discovered the need to try different heads and let the drum decide what sounds the best.
Snare side heads are a little easier to select. Not as many options. Basically, I choose a 3 mil clear head. I recommend  Aquarian Classic Clear Snare Side or Evans 300 Snare Side. But if I need more snare response I will use 2 mil Evans 200 Snare Side or Orchestral 200.
Out of Round Metal Shells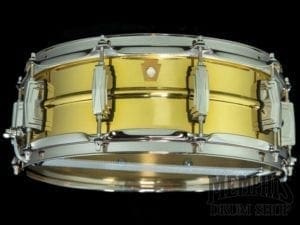 Another thing about selecting heads is what to do with a drum shell that is not perfectly in-round? I have a wonderful 1958 Super-Ludwig Model 401 lacquer-over-brass drum that at some point must have gotten damaged and out-of-round. It is virtually impossible to rework the bearing edges since it is a metal shell. So spare me the lecture about bearing edges.
Consequently, standard 14″ heads just do not fit properly. They are too tight. The best solution has been to use Aquarian American Vintage Series heads. The batter heads come in single-ply thin (7mil) and medium (10mil) weights. The Snare Side Heads are 3 mil clear. The American Vintage Series drumheads have a slightly larger hoop diameter to allow for an easier fit on most older American made drums that have a hard time fitting conventional heads. They have a vintage coating that is slightly thicker and has the look of a calfskin head. If standard heads do not fit properly, I will go with the American Vintage Series.
UPDATE: I just replaced the Aquarian American Vintage Series heads with Remo Classic Fit heads. Classic Fit drumheads have a slightly narrow flesh hoop and step design. The shallow step design collar doesn't require the head to seat as low on the drum shell. They easily fit my Model 401 snare drum. Remo makes a Classic Fit size in Ambassador (Clear, Coated, Ebony) Powerstroke P3 (Coated, Clear) and Diplomat (Fiberskyn) weights for batter heads and a Classic Fit hazy snare side head. Classic Fit is an excellent option. Especially if you traditionally use Remo drumheads. I think the Diplomat Fiberskyn batter head sounds more "open" on this drum than the Aquarian American  Vintage Series heads.
Head Tuning
Fixing difficult snare drums can sometimes be as easy as tuning the heads. In most situations, I set my initial head tensions with a Drum Dial. Because I like a crisp snare drum sound, the batter head is set around 85 and the snare side head is set around 80. Note: Even though the tension is lower on the snare side head, the pitch is actually higher due to the different thickness of the heads.
Remember my out-of-round Vintage Super-Ludwig 401 drum? Even with the better fitting Aquarian American Vintage heads (and now Remo Classic Fit Heads), the drum still sounded "boxy" with little snare response. I tried different snare wire configurations (which I discuss later) with modest success. One day, out of desperation, I decided to experiment with head tensions. Not much changed when I adjusted the batter side so I left it at around 85. But when I loosened the snare side head down to between 60 and 65, the snare response dramatically improved. Lesson learned is that not all drums respond the same at the usual head tensions. Be willing to experiment and vary head tensions. Get out your drum key and let the drum decide what sounds the best.
Snare Wires
Traditionally, I have used Puresound Custom Pro Snare Wires. They are well made and usually give me the sound I am looking for. But recently, I have discovered some interesting alternatives.
I like Fat Cat Dual-adjustable Snappy Snares. They make 18, 20 and 24 strand models.
What is unique about these snare wires, is that there is an independent group of wires in the center that are tension adjustable. I start by adjusting the snare strainer tension for a full snare sound at a forte dynamic level. Then I loosen (slightly) the center wire group (using the included wrench) to get a clean un-choked response at a pianissimo dynamic level. Fat Cats are some of the best wires I have used and the Dual-adjustable mechanism is a great idea to achieve a full snare response from soft to loud dynamic levels.
Finally, if I am looking for a more articulate – dry concert/orchestral sound, I use Grover Pro Percussion CX–Concert Xtreme Combo. They combine the sensitivity of steel curly wire snares (center) with the crispness of medium-thin gauge cable wires (outside). Additionally, I have had success with Puresound Concert Series snare wires which are crafted with strands of specially formulated stainless steel alloy for a subtle snare response that doesn't choke out the sound of the drum. 
Snare Drum Rims
Most modern snare drums today come with 2.3mm to 3.0mm triple flange rims. But older-vintage snare drums came with lighter 1.6mm rims. Lighter rims can "open up" the sound of a dull "boxy" drum. Be aware of these weight differences when buying replacement rims for vintage drums. And finally, don't overlook die cast rims if needed. These heavier rims can reduce resonance and add focus to the sound which is why they are standard on most concert/orchestral snare drums. And always replace any metal rod washers with ABS or nylon washers.
Conclusion
Fixing difficult snare drums has made me realize once again that "one size does not fit all". Especially when it comes to achieving your desired snare drum sound. Be willing to experiment and try different heads, snare wires, tuning and even rims. Whatever it takes. Each drum will have its own unique sound. If you want all your snare drums to sound the same then why own more than one? Let the drum decide. Let your ears decide. Be creative and imaginative. Some of my favorite snare drums today were the ones that initially gave me the most difficulty and required the most attention and effort.
You may also want to see: Internal Drum Muffler Alternatives, Aquarian Drum Heads and Vintage Aquarian Drum Heads