Aquarian offers a quality selection of vintage style drum heads designed to provide a vintage sound and appearance on drum set. These heads are especially suited for older vintage drum sets.
I have previously posted: Aquarian Drum Heads – Selection and Review. In that posting the heads I discussed were selected for a modern Witt Percussion American Black Walnut drum set. But I also frequently perform on a restored 1955 Ludwig Club Date. So I began looking for vintage style drum heads to maintain a vintage sound and appearance.
Remo, Evans and Aquarian
Every major drum manufacturer has some kind of "vintage" drum head. Usually trying to imitate calf skin heads which were standard on older drum sets. Plastic (Mylar) heads didn't gain in popularity until the early 1960s. Remo primarily offers Fiberskyn and Evans offers Calftone. I have used both of these heads. They looked and sounded fine. However, my major complaint was that both heads de-laminated over time. Basically, the thin top layer comes off or separates from the 2nd under layer. So I decided to try Aquarian.
Aquarian offers American Vintage and Modern Vintage. The American Vintage Series drum heads have a slightly larger hoop diameter to allow for an easier fit on most older American made drums that have a hard time fitting conventional heads. I have used American Vintage on a very old Ludwig snare drum. However, shell diameter was not a problem with my 1955 Ludwig drum set. So I went with the Aquarian Modern Vintage line.
Vintage Aquarian Snare and Tom Heads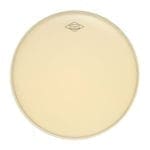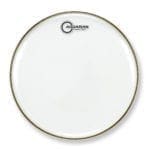 For my snare drum and tom batter heads I selected Aquarian Modern Vintage Medium heads. They are a single ply, medium (10mil) weight head, featuring a special coating that has the look, the feel and the warm sound of a calfskin head. The coating is slightly thicker and helps to slow the vibration of the head resulting in a lower, warmer tone with a softer feel and a classic vintage look. For the snare side head I selected a Classic Clear Snare Side head. It is a crystal clear, ultra-thin (3mil) single ply snare side head. For the tom resonant heads I selected Modern Vintage Thin heads. They are a single ply, thin (7mil) weight head which match the appearance of the batter heads. This was primarily a cosmetic decision. I easily could have gone with Aquarian Classic Clear White Gloss or even Clear resonant heads.
Vintage Aquarian Bass Drum Heads
My 1955 Ludwig bass drum is single tension. So proper head selection was critical. For the batter head I went with an Aquarian Modern Vintage Super-Kick head. It is a single ply, medium (10mil) weight head with a patented "Floating Muffling System" which uses a narrow band of acoustic felt for a pre-dampened, yet natural sound. The felt moves and "breathes" with the drum head while eliminating unwanted hi-end frequencies and boosting low-end punch. It has a musical, controlled bass drum sound without the use of blankets, pillows or external muffling. For the front bass drum resonant head I selected an Aquarian Modern Vintage with Bass Drum Felt. It is a single ply, medium (10mil) weight head with a small strip of dampening felt glued to the back of the head. This provided a very vintage look.
Additional Vintage Drum Set Accessories
DW SM2224 Clamp-On Bass Drum Hoop Spurs (Pair) This bass drum hoop spur system keeps your kick drum from moving around while adding stability. I added a pair to my 1955 restored Ludwig Club Date. The original set came with hoop mounted spurs and I didn't want to drill holes in the shell to mount newer styles. They even can be left on the bass hoop and still fit into my bass drum case. They provide a really cool vintage look.
Stagg MF1620 Snap-on Dampening Ring for Bass Drum It easily clamps onto the bass hoop and provides variable head dampening. I can position it and adjust it to get just the right amount of resonance for different musical styles and room acoustics. I keep one on my 1955 restored Ludwig Club Date which has a single tension bass drum. So, in combination with using Aquarian Vintage Drum Heads and DW Clamp-On Bass Hoop Spurs it provides a really cool vintage look.
Summary
Once again Aquarian has not disappointed. These heads look and sound great. Because they are single ply coated heads there is no possibility of delamination like the vintage two-ply heads from Remo or Evans. And I have found that Aquarian coatings are extremely durable and resist chipping. I also like the way Aquarian does the Vintage Series logo. It resembles the stamped logos on calf skins heads. I unconditionally recommend that you seriously consider Aquarian drum heads when selecting new heads for your drum set. Especially if you are trying to achieve a vintage sound and appearance.
You may also want to see: Internal Drum Muffler Alternatives, Fixing Difficult Snare Drums and Tuning with a Drum Dial