I want a lightweight, quick and easy drum setup. So in that spirit, I have always gone with minimal and lightweight hardware and add drum stand memory locks, Tama QC8 Quick-Set Cymbal Mates, a Gon Bops Percussion Tray etc. I currently use two Gibraltar 5709 boom cymbal stands. I went double braced because I attach a Tama MC62 multi-clamp with a Gibraltar SC-BALRM to mount an 8×12 rack tom on one of the boom stands. Also, I attach 2 Gibraltar SC-CLBAC cymbal boom attachment clamps for a 20″- 22″ ride and 22″ China cymbal on the other boom stand. So I have the "lightweight" part of my setup covered. But what about the "quick and easy" part?
I've always liked memory locks. Adjust it, set it and forget it. But generally, you have to have fairly heavy-duty hardware to get memory locks. My medium weight Gibraltar cymbal stands and clamps didn't have any. Now some of you are already thinking "Sharpie". Just take a Sharpie permanent marker and draw lines on the stands and clamps for alignment. I must admit that works. But I didn't want to have to put on my glasses all the time to see the lines. Which led me back to considering drum stand memory locks.
Gibraltar SC-HML127 Locks for Cymbal Boom Arms
Gibraltar boom cymbal arms are 1/2″ or 12.7mm in diameter so I bought a few Gibraltar SC-HML127 locks. Even though there are no receiving notches, I line the tabs up with the curve at the top of the receiving clamp. On the boom attachment clamps I marked the desired rotation setup spot, removed the interior separation spring and used contact cement to glue the two pieces into place. The eye bolt which holds the boom rod will still function. I selected contact cement so I could re-adjust them in the future.
Pearl DC-580, Tama ML222NT and ML199N Locks for Stands
My Gibraltar cymbal stand pipe diameters are 1″ – 7/8″ – 3/4″. For the 1″ diameter pipe I selected Pearl DC-580 Breakaway Stop Locks because they are hinged, relatively low profile and don't have alignment tabs. Both of my stand bases are set at the same height so they are interchangeable. For the 7/8″ diameter (middle pipe) I selected a Tama ML222NT  and for the 3/4″ diameter (top pipe) a Tama ML191N. There are no receiving notches on the Gibraltar stand sections but the small V tab on the Tama memory locks fit into the slot in the plastic tightening sleeve. I do not remove the clamp parts attached to the cymbal stand sections which keeps them separate and identifiable. However, I now have to take apart the cymbal stand sections rather than just collapse them to put them in my trap case. Not a big deal to me since everything fits.
So by retro-fitting my Gibraltar clamps and drum stands with memory locks my setup now is "quick AND easy" too. However, I must add that using memory locks can be a real pain getting them setup the "first time". But IMHO it is worth the effort in the long term. And now there are a few more things that I add to make things even easier and more comfortable.
Additional Setup Recommendations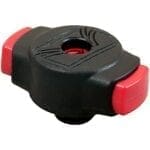 Tama Quick-Set Cymbal Mate QC8 (4 pack) Tama's Quick Set Cymbal Mates are a great solution for gigging drummers. Giving you one-touch convenience for setting up and tearing down. Simply press the side buttons simultaneously and slide the QC8 on and off of your cymbal stand – no more endlessly spinning wing nuts to secure or remove your cymbals. To adjust swing, all you have to do is rotate the QC8 to get just the playability you want. Put an end to delayed soundchecks and get the edge in the post-gig tear-down race with Tama QC8 Quick Set Cymbal Mates. The four pack is enough for ride, 2 crash and splash.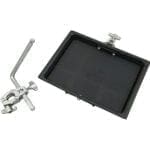 Gon Bops Percussion Tray with Clamp Keep your favorite toys within reach with this lightweight tray. This lightweight molded plastic percussion tray features a non-slip rubber top and includes a heavy-duty mounting clamp to attach to a stand in your setup. Ideal for situations where space is limited. And you can keep your phone (on silent), wallet, mallets and beverage of your choice close by. I attach one to my hi-hat stand. What makes this model so useful is that the tray is removable from the L rod which is removable from the stand clamp. When I break down, I can leave the clamp on my hi-hat stand and easily fit everything into my trap case.
Gibraltar SC-BUMP Rubber Drum Bumper Guards  They are designed to protect your kit from scratches and scuffs. The 3″ long rubber guards fit snug over the drum hoop to stop drums from bumping against each other. I use one on my snare drum to protect my rack tom and one on the bottom rim of my rack tom to protect my bass drum. Cheap, effective and come in a 2-pack.
Drum Throne Backrest Suggestion
Gibraltar GUBR Universal Backrest I use a backrest primarily for shows and pit work. Situations when I can leave my drums setup for an extended period of time. A backrest is not easy to put on and take off and it doesn't fit into my trap case. If you do enough pit work, you quickly realize how much time you spend in rehearsals and even during shows NOT playing. I needed back support for long rehearsals and shows. Again, not so much for when I was playing. But when I was NOT playing. I got a Gibraltar Universal Backrest simply because I was using a Gibraltar 9608 Drum Throne. Get one that works with whatever type of drum throne you are using. You can thank me later. 
Bass Drum Mounted Splash Cymbal Solution
Cymbal Resonance System  New invention for drums and percussion. Makes your cymbal stand a combination of a suspended stand and a traditional stand. CRS isolates the cymbal from the stand with rubber insulation. This allows the cymbal to resonate freely and steadily on your stand without rattles. The primary reason I purchased one was because nothing else solved the problem of my bass drum mounted splash cymbal being activated whenever I played the bass drum. I top it off with a Tama Quick-Set Cymbal Mate. A CRS does improve cymbal resonance. I will also use one for suspended cymbal orchestral work rather than take a gooseneck stand. They are expensive and can be hard to get. But well worth it.
You may also want to see: How to Play Drum Set Softer, Drum Set Cymbal Recommendations and Drum Set Stick Recommendations