The following is my cowbell recommendations for drum set: LP205 Timbale Bell, LP228 Black Beauty Bell and LP206A Bongo Bell. Cowbells are a lot like cymbals. We each have personal preferences for manufacturers and models. We need to make different selections based on the gig. Every time I got a new cowbell my wife would ask, "How many cowbells do you need"? I must confess that over the years, I have bought my fair share of cowbells that I thought I would use. But instead, they ended up being relegated to the cabinet of "Misfit Percussion Equipment". Over time however, I seem to have finally settled on a trio of cowbells that I frequently use on drum set.
I use LP brand cowbells for no reasons other than they sound good and are an industry standard. And even though I have several of the newer LP Salsa line bells, I keep going back to their Traditional line. I believe that is because I prefer the dryer sound of the Traditional line over the livelier sound of the Salsa line – especially for drum set.
This is the cowbell I will setup if I choose to use only one bell. Obviously, it works great for Salsa and Mambo bell patterns. However, it has a deep open sound on the mouth that also works well for Songo, Mozambique and even Rock grooves. It has a nice contrasting higher pitched sound on the body which can substitute for a Cha Cha bell in a pinch and the bell's pitch contrast also allows for imitating a Bongo bell or Agogo bell pattern.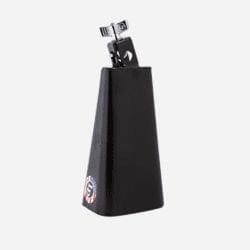 This is pitched a full step lower than the popular Black Beauty bell. Obviously, it works great for Cha Cha bell patterns. However, the lower pitch allows it to substitute for Salsa and Mambo bell patterns. Playing the mouth of the Timbale bell and the body of the Cha Cha bell can imitate an open-closed Campana Bongo bell pattern. The LP Black Beauty used to be my primary bell before changing to the Timbale bell which I now find more versatile.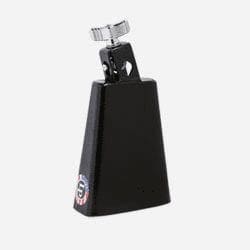 This is the final bell I will set up. But it is essential if it is a heavy Latin music gig. Obviously, it works for Bongo bell patterns. Including Conga and Afro-Cuban 6/8 Bembe styles. This bell, when combine with the other two bells, allows me to cover about any Latin style or sound I need. Nice contrast between the low open mouth sound and the higher closed body sound. It is pitched correctly to blend well with the LP Timbale and LP Black Beauty Senior bells. Note that not all cowbell pitches or tones blend well. Especially when played together. I found that out the expensive way.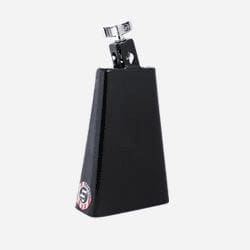 Cowbell Recommendations for Drum Set
If you are going to play Latin Salsa music (especially Afro Cuban) you need to seriously consider the selection of cowbells. Always playing cowbell patterns on a cymbal bell just doesn't cut it. I really have enjoyed working the LP205 Timbale Bell, LP228 Black Beauty Bell and LP206A Bongo Bells into my grooves. And one final tip: If you need to dampen a bell slightly, place rubber bands around the bell. You can vary the number and placement easily. You can quickly vary the bell sound depending on the gig and venue. 
For my updated cowbell recommendations see: Basic Multipurpose Cowbell Recommendations