Castanets Mounting Recommendations is slightly off topic for drum set tips. But there are occasions when the drum set player is called upon to play the castanets. Especially in musicals and pit work. The obvious substitutions would be to play the part on a closed hi-hat or a drum rim. Or using an electronic percussion pad. See: Yamaha DTX-MULTI 12. But when those substitutions are unacceptable, you need real castanets. If you have time, you can drop the drum sticks and pick up handle castanets. Or you could use a table machine if you have space. But what I needed for a musical I was playing was castanets mounted on a 3/8 rod or cymbal stand as part of my drum set-up.
LP427 Castanet Machine
My initial choice was the LP427 Castanet Machine. It costs only $33. It's a good value that works OK for pit work. Small size and easy to mount. The sound is acceptable for being plastic castanets. However, there was an exposed musical section in the show that required a better sound – like authentic orchestral castanets. For that I need Castanets Mounting Recommendations.
Weiss Castanet Machine Mount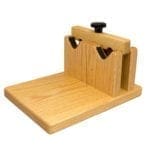 I own a nice pair of Black Swamp Pro Concert Castanets. And I own a Weiss Castanet Machine Mount which I bought because it costs only $50. The Weiss frame works very well on a trap table in an orchestral setting. But it doesn't have a way to mount it to an accessory rod or a cymbal stand. A Black Swamp Machine Frame can be mounted on a cymbal stand. But I didn't want to spend $100 plus for another mount.
Pearl PCN20H Holder
The real solution was the Pearl PCN20H Holder. It is mountable on a 3/8 accessory rod and size adjustable for different handle castanets. It allowed me to easily access my Black Swamp castanets while playing drum set. The soft felts in the inserts protect the handles. Best part was it costs only $30.
Black Swamp Machine Frame
In hindsight, I should have initially bought a Black Swamp Machine Frame instead of the less expensive Weiss model. I would then be able to use it as a table mount for orchestra work AND mount it on a cymbal stand for drum set work. But it's tough to beat the functionality, quality, and price of the Pearl PCN20H Holder. Both work very well for integrating castanets into a drum set-up.